Welcome to Facial Aesthetics Academy (FAA)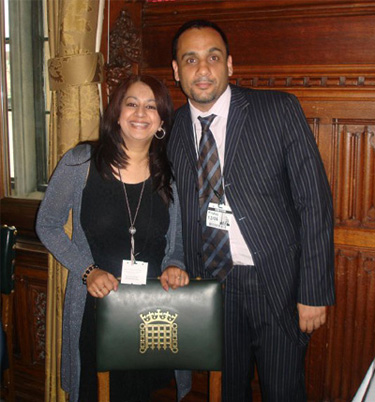 Smita & Harry at World Aesthetic Congress Gala dinner at Houses of Parliament
Dr Harry Singh and Miss Smita Mistry are the directors of this training academy and they aim to show you proven marketing and sales strategies in creating a successful and profitable facial aesthetics business.

Harry's first hand knowledge, up to date clinical & business expertise in establishing and running a fertile and profitable business combined with Smita's inspirational, forward thinking, marketing and business strategies in facial aesthetics, led them both to set up and create the FAA at the start of 2012

Harry and Smita initially worked together in 2000, remained good friends ever since and their pathways led them to work together again in 2007.
About FAA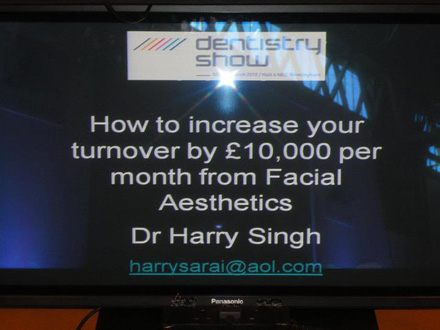 The FAA presentation at the Dentistry Show 2012
Whether you run a dental, medical aesthetics clinic or work as an independent facial aesthetics practitioner, our training academy will teach you how to accomplish a thriving and lucrative facial aesthetics business.
We will share our own personal experiences with you, explain, educate and demonstrate how we did it, so you can achieve the same success, along with "what not to do" by sharing our own mistakes we made along the way.
The business of facial aesthetics can be easy to incorporate within your own dental, medical aesthetics clinic or as a mobile facial aesthetics practitioner and can accelerate your income and benefit you in a way you never saw possible, alongside your revenue from dentistry or other treatments and services you already provide within your business.
Harry, together with Smita's innovative and refreshing ideas, has now become renowned in the dental and facial aesthetic industry for building an extremely successful facial aesthetics business with in his private dental clinic in just less than 4 years.
They can show you their own "TRIED, TESTED AND PROVEN" methods and help you gain a whole new array of loyal lifelong facial aesthetic patients, and increase your facial aesthetics income.
So let
FAA

help you succeed,
with our

expert marketing systems

and

selling techniques via co-diagnosis with your clients.



Contact us now as you have nothing to lose and everything to gain!
How our will the FAA will help YOU succeed in YOUR business of facial aesthetics.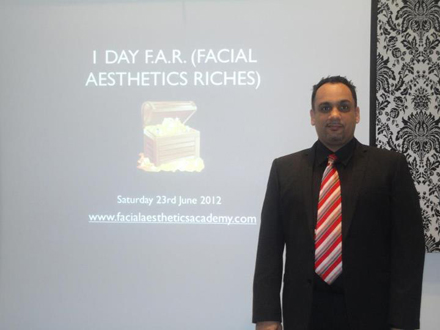 1 day F.A.R Course June 2012
We will show you how to "start, promote and turbo charge" your facial aesthetics business within your own dental, medical aesthetics clinic or as a mobile facial aesthetics practitioner with simple yet proven methods, tried and tested by Harry and Smita themselves.
We can show you what has made our business bloom and help you achieve the same within your business and bring you that revenue you could be missing out on!
Have you been thinking about starting facial aesthetics as a mobile practitioner, or within your dental/medical aesthetics clinic but don't know how or where to start?
Then our 1 day intensive F

acial

A

esthetic

R

iches

(F.A.R)

course

will help get you and your team get on that the runway and so you are ready "take off the minute you walk back in to your clinic on Monday morning.
Do you think facial aesthetics will not take off in your clinic?
Well we can show you how do this successfully and get your team on involved and committed, to help you market this fruitful and financially rewarding business.
Are you unhappy with your returns from facial aesthetics after paying for the clinical courses, or have you just failed to put your clinical experience into practice, as you don't know how to incorporate it within your dental or medical aesthetic clinic or services?
Then our F.A.R course is the one attend, and will provide you with many inspiring ideas and show you how to expand this business and increase your revenue with our proven marketing strategies.
Our next

F

acial

A

esthetic

R

iches

(F.A.R)

course

Saturday 26th October 2013
ONLY £597

Includes

1 FREE TEAM MEMBER

&

YOU PAY NO VAT

Harry & Smita have personally designed this one day F.A.R course from their own experience of what can create and make a successful facial aesthetics business

Places will be limited to the first 12 delegates only,
so do not miss the opportunity to take up this amazing offer,
and ensure you book your place before we have to charge VAT!
To secure your place on this course
please phone Harry on:
07711 731173

or Smita on:

07957 455745


Or email us at: enquiries@facialaestheticsacademy.com
Here are what some of our delegates and fellow professional colleagues had to say about us, our training academy "FAA" and our "F.A.R." course's:

Dr Harry and his team delivered what I expected in a relaxed and informative manner.
Anyone serious about making money from facial aesthetic's, should consider attending this course together with their practice manager.



Sita Paes (Dentist)

I was unhappy with the number of patients I was seeing for facial aesthetic services.
I approached Harry and asked for his advice and any tips he could give me. He was more than happy to help and invited me to spend a day in his clinic in Hertfordshire. Wow, the set up was amazing and the patient journey seamless.

His marketing knowledge and promotional activity was first class and he gave me some inspiring ideas.
What impressed me the most, was the number of his patients that would return for regular treatment and who referred others too.
Harry has an immense knowledge of facial aesthetics and a vast experience in this field, I left rejuvenated myself and now the results are amazing. I have dramatically increased my turnover and have the majority of my patients referring and returning for treatment.

I would highly recommend anyone thinking of taking their facial aesthetics business to the next level to listen
to Harry.



Dr. Ranj Singh (Medical & Cosmetic Doctor)

Harry is an innovator – he created what I still regard as one of the best branded dental and facial aesthetic practices in the UK and did so at a time when the popular opinion within the UK dental sector was that "it couldn't be done, especially not that well".

However, Harry's story isn't just an inspiration to dentists - it can motivate and guide anybody who is curious about building a successful facial aesthetics business - and it can undoubtedly save you time and money as Harry has made the good and bad decisions already and will share them with you.

What I loved was your presentation skills Harry - excellent and I look forward to seeing more (that girl Smita is priceless!)

Don't reinvent the wheel, learn from an experienced practitioner how to create a winning business formula.



Chris Barrow (M.D. at Barrow Kwong Hing Group)

Smita Mistry is one of a kind, a true dental professional.
Over the years she has offered me invaluable marketing and business advice which has really helped me and my business grow.
I am grateful to her for this, and highly recommend her to anyone looking to step up their game and improve their business ten fold.



Kelly Haggett Dental Angels Recruitment UK

The facial aesthetics talk that Dr Harry Singh gave was one of the best talks at the show.
He was clearly so passionate about his subject, but what impressed me the most, was that Harry had thought long and hard about how to deliver a great service to the patients that need and want treatment.
Not only had he thought about how to deliver a great service, he had also put it in to a system that could easily be replicated.
This demonstrates his passion for facial aesthetics and his ability to help other practitioners achieve the same standards as he has - thanks Harry



Mark Oborn

When we went looking for the perfect hygienist to showcase to the entire profession via our new e-learning platform VAKmentor, we could think of no better choice than Smita.
She is the ultimate professional, but more importantly "caring" is part of her constitution and this is a tremendous reason for her success with motivating patients.



Seema Sharma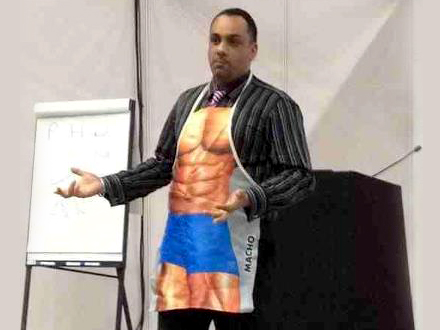 Harry the Educating Entertainer during the FAR Course

Anyone who knows Harry Singh knows he is a born entertainer. Add to that his own real experience of having built a super successful aesthetic practice from zero, plus the fact that he gives his knowledge generously and you have a must-attend seminar for anyone wanting to increase the proportion of facial aesthetic treatments in their dental practice.
That's what I want and I am looking forward to learning from Harry and having fun on the way!
Smita Mistry is an absolute star and you're a quite a team. This academy will be great - can't wait!
Thank you both for being such great company at the show - loved it! X



Lubna Alam-Orths (Principal of True Dentistry)

I thoroughly enjoyed a great presentation by Harry Singh, regarding facial aesthetics.
He is clearly highly skilled and very passionate about what he does and he's gracious enough to share that knowledge with others. Although we offer this kind of service to our patients already, the FAA presentation has definitely made a difference on how I go about it from now on. Looking forward to learning more from him and Smita in the near future!
Highly recommend put it in to a system that could easily be replicated. This demonstrates their passion for facial aesthetics and their ability to help other practitioners achieve the same standards as he has
- thanks Smita and Harry



Abeer Al-adhami (Principle of Abi Dental)

Smita Mistry deserves the recognition she is receiving from you Harry Singh and clearly so many others in our profession recognise this. It was lovely to see you both



Emma John

Harry Singh was highly entertaining as a speaker and informative at the same time. His mix of humor and education felt like Lee Evans meets Facial Aesthetics! Very Compelling! I could do it all again. Thanks Harry.



Jagmail Basrai Dentist

 Tireless enthusiasm, total dedication, ability beyond her professional focus all qualities that describe Smita who has been one of those rare people who "join in" the dental profession, rather then just "join".
Smita is constantly motivated by what she can do to help others, whether it is patients or her team colleagues.
She is a true asset, a natural leader and a wonderful ambassador for her practice and the profession as a whole.



Chris Barrow (M.D. at Barrow Kwong Hing Group)

The seminar covered lots of key ideas and inspired me to take action.
I felt the F.A.R course gave me the support tools to do this and highlighted key areas to focus on.
Good business ideas shared by two professionals who have "been there and done that", along with "tried out" systems that can be applied to any busy practice.



Kalpesh Katechia (Owner Vogue Dental Care)
About Us
DR HARRY SINGH
Harry qualified in 1996 from Leeds Dental School.
He has been carrying out facial aesthetics services for the last 5 years, has treated over 1000 patients.
His facial aesthetic business rapidly expanded when he incorporated it very precisely and cleverly with in his private dental squat - aesthetics in Hertfordshire which he opened in November 2007.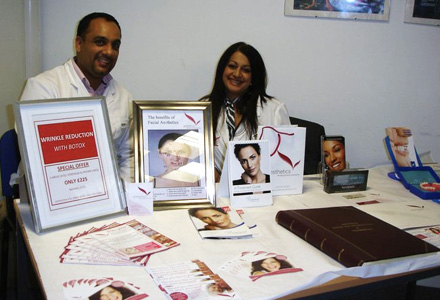 Harry & Smita marketing their clinic's facial aesthetic promotional materials and adverts
After just 1 year of opening and during a recession, Harry was generating a pleasing turnover of at least £10,000 per month from facial aesthetics this was in addition to his turnover from dentistry.
This gratifying income was achieved just by doing simple procedures such as Muscle Relaxants and Dermal Fillers, combined with comprehensive planning, meticulous team training, tactical and strategic marketing.
Harry really has created a sensational, highly credible and prosperous facial aesthetics business.
He gentle trustworthy approach with his patients has made the demand for his services reach such a high that he also runs a mobile facial aesthetics business to beauty salons in Hertfordshire.
Harry has also written many articles on the subject of facial aesthetics and is regularly featured in the professional journals such as Premium Practice Dentistry, in Aesthetic Dentistry Today, Private Dentistry.
He is also on the editorial board of Premium Practice Dentistry.
Harry has become well known in the dentistry for his knowledge, expertise and victory in creating a successful facial aesthetics business and in 2012 he was invited to speak at both the Dentistry Show and Odonti Dental Conference
GDC NO:72684
MISS SMITA MISTRY
Smita qualified as a Dental Hygienist in 1990 from Eastman's Dental Hospital and has worked full time ever since in various practices and has worked with many famous clients including some of the cast of Eastenders and Holby City.
Smita has additionally trained in aromatherapy, dental hypnosis, dental acupuncture, professional tooth whitening and muscle relaxing treatments, just so she can provide her patients with a more holistic and comprehensive treatment care plan.
She has also learnt to skillfully incorporate preventative, general, and cosmetic dentistry with facial aesthetics.
She has enhanced and furthered her skills in the non clinical aspects of the "business of dentistry"–notably marketing, and this has led to her being responsible for business management, development and marketing at aesthetics.
This has resulted in a rapid growth of the business and aesthetics won Best Marketing at the Private Dentistry Awards and was shortlisted for Best Community/Charity Project.
She works closely with Harry in conducting practice meetings and team training as well as setting up and regularly reviewing many of their clinics policies, protocols and systems.
Her inspiring marketing ideas means she is involved with all practice promotions, both in-house and external.
Smita manages and handles business meetings with external consultants/coaches in order to set up joint ventures with strategic alliances, and meets HR consultants of corporate companies to set up dental benefits for their employees
Smita been an integral part of the success at aesthetics in Hertfordshire and was employed by Harry even prior to opening his clinic in 2007 and since joining his clinic, has become instrumental in business development, marketing and team training for the facial aesthetics aspect of the business
Smita is the Founder of FAA & a Co-Director with Harry
She has gained exceptional professional recognition for her managerial experience in business/marketing development within the medical aesthetics & dental Industry and in December 2012 Smita gained prestigious awards as a regional winner as the "Best Dental Care Professional in the South East" & then becoming a national winner as the "Best Dental Care Professional in UK" at Dentistry Awards.
Smita was also a finalist at the Dental Hygiene & Therapy Awards In December 2012 as "Best Hygienist"
GDC NO: 3993